DaVinci Vaporizer Review
User Score
8.3
(15 votes)
DaVinci Vaporizer by Karma
The DaVinci vaporizer (retail $249) is the latest entrant in the increasingly competitive portable vaporizer market. The unit is similar in shape and size to a small hand-held walkie talkie. It is a battery powered (Li-ion) convection style vaporizer with a digital LCD display, and has an adjustable temperature range of up to 430° F (220° C).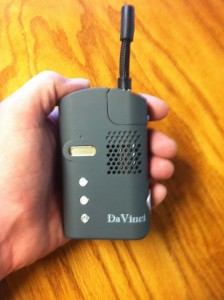 Initially, I was skeptical of the DaVinci as it appeared very similar to some battery powered imitations of O&B's Iolite (the Skyda unit comes to mind), however after receiving the unit, my doubts were quickly dispelled.
The main thing that sets the DaVinci apart is that it is truly a convection-style vaporizer as opposed to the more conduction-based units such as the Magic Flight Launch Box and the aforementioned Iolite and Wispr. This puts it directly in the same league as the Arizer Solo, and the Thermovape T1. As convection provides the cleanest, best tasting and most efficient form of vaporization, the DaVinci has positioned itself to be a real player in the portable vaporizer realm.
I was immediately impressed by the size and weight of the DaVinci. It feels very solid in the hand and looks like it could be manufactured by Samsung or Sony. The body is made of aluminum, with a rubberized coating for a soft, comfortable feel. It has a bright LCD display and easy to use up (+) and down (-) temperature control buttons. It also features a failsafe on/off design where turning the unit on requires the master power switch to be activated (side of the unit) followed by the on/off button on the face of the DaVinci. This is a great feature for preventing accidental powering on while it is in a purse or pocket. The unit however will not take a charge from the AC charger unless the master power switch has been turned on (I don't really care for that 'feature' to be honest).
The DaVinci heats up very quickly in comparison to other portable vaporizers. My unit heated up to the recommended start setting of 375F in 80 seconds. My Solo by comparison takes almost twice that long to warm up to operating temps. Once the DaVinci has reached the desired temperature, the colored LED light turns from yellow to green to let you know that you're ready to go. The DaVinci has a 10-minute auto shutoff feature in order to preserve battery life. This can be "overridden" by simply pressing the on/off button to reset the timer.
Inside the loading chamber of the DaVinci are a couple of thoughtful extras that you wouldn't normally expect in a portable vaporizer. One is an extra storage chamber with a rubber stopper that can store extra blends, a very nice feature. The other is a little brush that is easily removed for cleaning the unit from excess debris. The brush uses high-temperature resistant plastic, so even though it's seated next to an oven, it is safe from mishap.
The biggest design flaw that I can see with the DaVinci is that the hinged opening on top that is used to access the chamber for loading and unloading does not open up all the way. This makes loading, unloading and cleaning a bit more work than it needs to be. It prevents anything any longer than 2" from being used for cleaning or stirring. A q-tip can be bent and still used, and a toothpick can be cut in half and used for stirring. This is not a huge inconvenience, however I believe this "partial opening" design should be on the short list of improvements for future versions of the DiVinci.
There was a strong rubbery smell when I first took the unit out of the box, but I quickly realized that this rather strong "tennis shoe sole" smell had been imparted by the foam insert that the DaVinci was shipped in. After a few 10-minute cycles, the odor was already diminishing and has since vanished entirely. I strongly recommend that you do NOT store your DaVinci in the original foam insert, as the smell will continue to be imparted when in contact with the OEM foam packaging.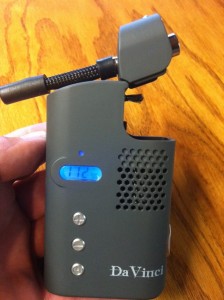 The vapor production the DaVinci provides is quite impressive for a portable vaporizer. There is also virtually no restriction in the airflow, so taking draws is much more comfortable than other portable vaporizers that (usually by design) have more restriction in the draw. The recommended starting temp of 375° F is a little bit hot for my taste, and I found the vapor to be much smoother at about 360° F. The vapor gets denser, yet harsher above those temps, so each individual can dial-in their own personal "sweet spot" which is obviously something that fixed-temperature vaporizers cannot provide.
The taste of vapor is not the purest with the DaVinci, but this is a small price to pay for using such a stealthy portable that can easily be carried in a pocket or purse with no breakable parts to worry about. The volume of vapor produced with the DaVinci is much thicker than the Iolite and Wispr, and just a little less than the Arizer Solo. Unlike the Solo, however, the DaVinci has no breakable glass, making it a much better option for on-the-go use in situations like hiking, festivals or concerts.
The straw is silicone wrapped with a mesh protective cover and it can be easily screwed on and off. I have not found a need to remove the stem yet, but it's nice to know that it is easily removable and replaceable.
You can expect about 40 – 60 minutes of "run time" from a full charge. This should give 4 – 7 full sessions depending on temperature, draw speed, and length of sessions.
DaVinci specs per the manufacturer:
Height: 3.94
Weight: 2.36
Depth: .98
Power Source: 3 Lithium ion batteries total 13.5 V
Digital Temperature Display Face
Secondary Heating Power button
Temperature control buttons
1.5 minutes to heating point of 375 degrees
Temperature capability of up to 430 degrees
Main unit power button
Auto regulation of temperature
Materials storage area
Cleaning brush
Removable, interchangeable Flexible Breathing stem
Proprietary PC Motherboard control
Bronze heating Drum
In summary, I think the DaVinci vaporizer is a real contender in the portable vaporizer market. If you are looking for a stealthy, portable, adjustable temperature vaporizer solution that provides ample vapor without any breakable parts, you should seriously consider it. While no vaporizer is perfect, the DaVinci has plenty of features that give it an edge over similarly priced portables that are currently available.
DaVinci Vaporizer Review

,